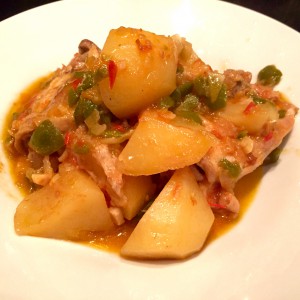 From Alex: This is a typical delicious dish in my grandmother's repertoire, that she would make weekly. I loved it so much as a kid, during our summer visits to Sevilla, that I reached out to my relatives in Spain to track down this recipe. I remember coming in for lunch, just as it was getting hot outside, to sit down family style to this intensely flavorful stew. It uses a whole bottle of white wine but a simple Pinot Grigio or Sauvignon blanc works just fine. Oh, and you'll want a crusty baguette to soak up every drop of juicy goodness.

In a ceramic Dutch oven, heat olive oil over medium heat and then sauté the onion, green pepper, tomato, and garlic until just soft; about 10 minutes. Generously salt the chicken and then add it to the vegetables and continue cooking for an additional 5 minutes.

Add the bay leaves and enough white wine to just cover the chicken; bring to a simmer. Cover and cook for 30 minutes.

Flip chicken and then add the potatoes; continue to cook covered for another 30 minutes or until potatoes are soft and chicken is falling off the bone. Adjust salt to taste.

Serve family style with a crunchy French baguette.