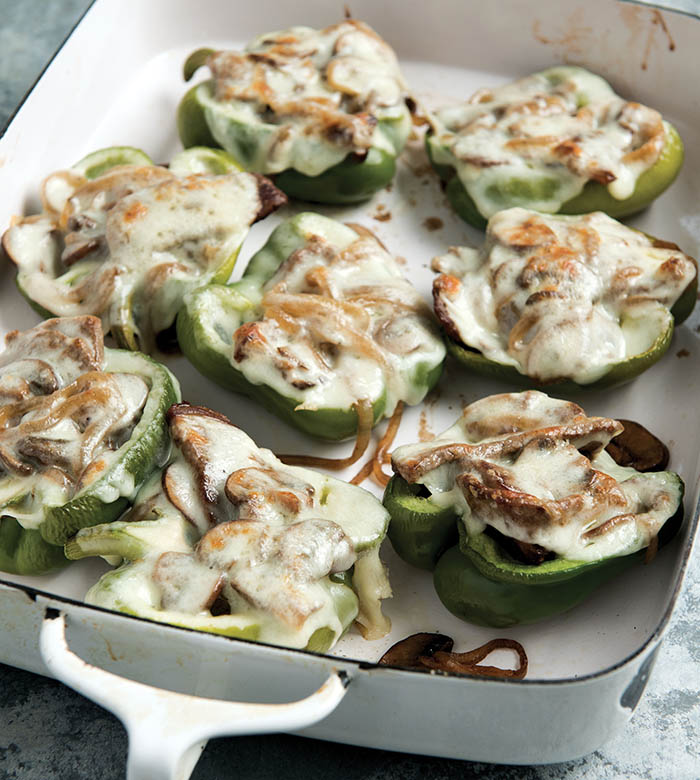 When I was in high school, I went on a date and had my first Philly cheesesteak. This was before my healthy enlightenment, when I ate anything I wanted. It was a classic case of "ignorance is bliss." We went to Geno's—I'll say one of the spots where they serve the best cheesesteaks to avoid taking sides in that classic Philly debate! It was absolutely delicious, but I distinctly remember thinking there was too much bread. See, I've always been a filling kinda gal—I like my sandwiches packed so full that I can barely fit my mouth around them. This bell pepper cup version completely eliminates that issue and lets you focus on the steak, onions, and provolone cheese that make this Philadelphia-born sandwich one of a kind.
— Ali Maffucci
Spiralized / Saves Well / Gluten-Free
NUTRITIONAL INFORMATION 1 full bell pepper cup sandwich
Calories 489 / Fat 31g / Sat Fat 16g / Sodium 546mg / Carbs 10g / Fiber 5g / Sugar 2g / Protein 41g
TIME TO PREPARE 10 minutes
TIME TO COOK 35 minutes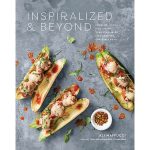 Reprinted from Inspiralized and Beyond. Copyright © 2018 by Alissandra Maffucci. Photographs copyright © 2018 by Evan Sung. Published by Clarkson Potter/Publishers, an imprint of Penguin Random House, LLC.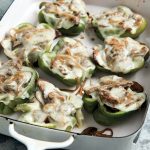 Preheat the oven to 325 degrees. Coat a large baking dish with cooking spray.

Place the bell peppers in the prepared baking dish and bake until tender, 15 to 20 minutes. Remove from the oven, set aside, and turn the broiler to high.

While peppers roast, heat the olive oil in a large skillet over medium-high heat. When the oil is shimmering, add the steak and cook until browned on both sides, 6 to 7 minutes. Using tongs, transfer to a plate. Immediately add the garlic, onion, and mushrooms to the skillet and season with salt and black pepper. Cook for 5 to 7 minutes, until the onions are tender. Return the beef to the skillet. Stir to combine.

Stuff the beef-and-onion mixture carefully into each bell pepper half. Top each with a slice of provolone. Return to the oven and broil for 3 minutes, until the cheese is melted and bubbling. Serve immediately.