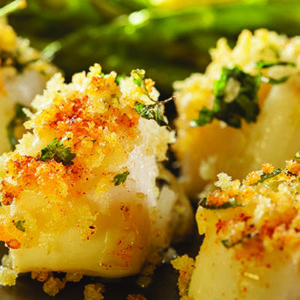 From Bud's Fish Market, Branford, Connecticut
Get the scoop on a few of our favorite seafood markets in Connecticut, Rhode Island, and more, and hear local author Mike Urban describe more seafood recipes from his book in this recent episode of The Faith Middleton Food Schmooze®.
Recipe excerpted from The New England Seafood Markets Cookbook by Mike Urban, published by Countryman Press, ©2016.
Photo: Brent Hofacker/Shutterstock.com, courtesy of the publisher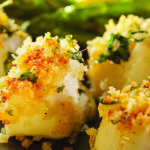 Coat the scallops with the breadcrumbs, and set aside. In a large pan or skillet, sauté the garlic and parsley in the olive oil and butter over medium-high heat. Add the breaded scallops and gently fry until browned (just a few minutes— don't overcook).

Add the white wine and lemon juice. Continue cooking gently for a few minutes until most of the wine evaporates. Place the scallops in the heated shells (or other small containers), and serve hot.