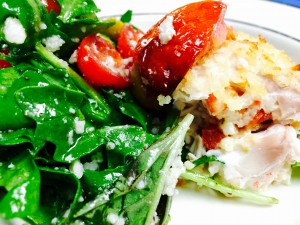 This was a delicious dish. The stuffing mixture comes together quickly. It's then carefully rolled into the swordfish fillet and baked in a beautiful sauce. You can ask your local fish store to slice the swordfish for you.

Position the rack in the center of the oven and preheat the oven to 375° F. Lightly oil a 9 × 13-inch baking dish.

To make the filling, mix 2 tablespoons of the oil, the breadcrumbs, shrimp, swordfish, tomato, lemon juice, parsley, garlic, salt, and pepper in a large bowl until moistened and a little pasty.

To make the casserole, lay each swordfish fillet on a clean work surface. Lay 1/3 cup of the filling in a line about 1/2 inch away from the longest edge. Roll closed, starting with the edge nearest to the filling. Place seam side down in the baking dish.

Tuck the tomato slices between the rolls. Sprinkle with the breadcrumbs and drizzle with the oil. Bake until the breadcrumbs are lightly browned and the fish is cooked through, 10 to 12 minutes. Let cool in the baking dish for 5 minutes before serving warm in bowls, with basil and any pan juices drizzled over the top.
Faith and Chris like to have fun with recipes, so they added lemon zest and a sprinkling of crushed red peppers to the filling and wrapped each swordfish filler in a slice of prosciutto from the supermarket.