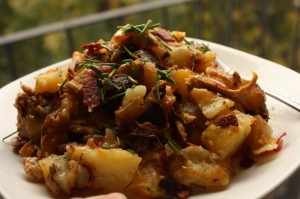 He makes fried deviled eggs. Skillet steaks with chive butter. Trout drizzled with bacon cream sauce. And classy butter-fried oysters. Welcome to the fearless world of James Villas, author of Southern Fried.
Jim has become a regular on The Food Schmooze®. (What can you do? He keeps writing books, 17 of them.) A transplanted Southerner, Villas cooks and writes in East Hampton on The East End of Long Island, where he throws a mean cocktail party from time to time.
I first fell for Jim years ago when I interviewed him at Wolffer Vineyard on The East End. Explaining he was a long-time listener, he brought me a batch of his homemade biscuits, and those hefty beauties pretty much sealed the deal. As we sat around swapping stories, I learned that Jim had one of the best waist-expanding jobs in America; he was food and wine editor of Town & Country magazine for 27 years, an eternity in national publishing. (Perhaps he plied everyone with biscuits; I don't know.)
What I know is that every time Jim comes on the show, my Southern friends start calling. Southerners have an honorable food tradition tied to memory. I feel as if I know so many of their relatives, though we have never met; a southern recipe often represents aunt Ida or Uncle John. There is a bit of the rebel hiding in Mr. Villas, I suspect; only a rebel would create Southern Fried in a time of hysteria over trans fats. But he's on to something, if you ask me. There is deep comfort in good Southern cooking, and these days we can all use some of that.

In a large skillet, heat the bacon grease over moderate heat, add the onion, bell pepper, and garlic, and stir till softened, about 8 minutes.

Add the chicken and potatoes and stir for 5 minutes longer. Add the cheese, parsley, tarragon, and salt and pepper and stir till well blended.

Using a heavy spatula, press the mixture down and let it cook till a brown crust forms on the bottom, about 10 minutes.

Using two heavy spatulas, carefully flip the hash over in the skillet and cook till the other side is crusted, 8 to 10 minutes.

Slide the hash onto a plate, cut into 4 portions, and serve immediately.