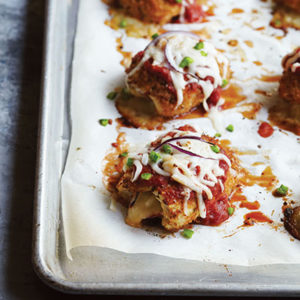 What happens when you combine chicken cutlets with pizza toppings? Winner, winner, chicken dinner! I love making chicken roll-ups. I stuff them with just about anything I have in my refrigerator. And honestly, what can be more family-friendly than pizza toppings? Here we have the works: pepperoni, mushrooms, bell peppers, and mozzarella cheese. Feel free to mix it up with anything you like on your pizza.
— Gina Homolka
ON-DEMAND: Listen to Faith and Gina talk about this recipe, as well as many others that'll inspire your weeknight meals (and breakfasts, and desserts!). Please support The Faith Middleton Food Schmooze® and all of WNPR's programming with a pledge of $11 a month; we will send you this book with our sincere thanks. Make your pledge now.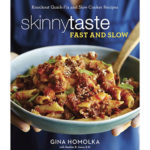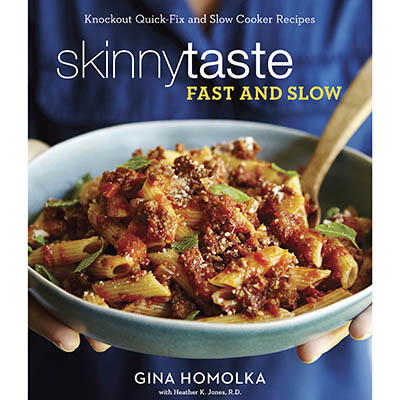 Reprinted from Skinnytaste Fast and Slow. Copyright ©2016 by Gina Homolka. Photographs copyright ©2016 by Helene Dujardin. Published by Clarkson Potter/Publishers, an imprint of Penguin Random House, LLC.
Read our review to learn more about this book.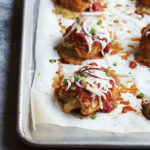 Preheat the oven to 450°F. Line a rimmed baking sheet with foil or parchment and spray with oil.

Halve each chicken breast horizontally to create 2 cutlets. Cover with a piece of wax paper and lightly pound to a 1⁄4-inch thickness. Season with the salt and pepper.

Lay the chicken cutlets on a work surface and top each piece, in the center, with 1 tablespoon mozzarella, 2 slices pepperoni, and 2 slices mushroom. Loosely roll each one up and set them seam side down.

In a bowl, combine the bread crumbs and Parmesan. In a second bowl, combine the olive oil, lemon juice, and pepper to taste. Dip a chicken roll-up into the oil mixture, then in the bread crumb mixture. Place it seam side down on the prepared baking sheet. Repeat with the remaining chicken. Lightly spray the roll-ups with oil.

Bake until the chicken is nearly done, about 20 minutes. Remove the baking sheet from the oven. Top each roll-up with 1 tablespoon marinara, 1 tablespoon mozzarella, 2 slices red onion, and 1-1⁄2 teaspoons bell pepper. Bake until the cheese is melted and the sauce is hot, 4 to 5 more minutes. Serve immediately.
Nutritional Information for this recipe:
PER SERVING 1 chicken roll-up
CALORIES 245
FAT 9 g
SATURATED FAT 3.5 g
CHOLESTEROL 87 mg
CARBOHYDRATE 8 g
FIBER 1.5 g
PROTEIN 31 g
SUGARS 2 g
SODIUM 551 mg