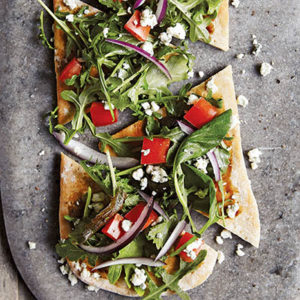 New York is known for great pizza. But believe it or not, one of my favorite slices from my local pizzeria isn't topped with extra cheese or pepperoni, but with salad. It's light and healthy and tastes so good. I've created a version that's pretty close to the original, only as smaller individual pies. I especially love the balsamic glaze that gets brushed onto the crust—it adds sweetness and flavor to every bite—and the crumbled Gorgonzola cheese is a must. This is also great grilled outdoors in the summer.
Time-Saving Tip — Making your own pizza dough is pretty simple, but if you want to keep the prep and cook times under 30 minutes, buy dough from the supermarket or ask your local pizzeria, as many sell their dough.
— Gina Homolka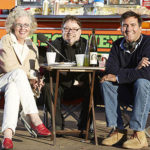 ON-DEMAND: Listen to Faith and Gina talk about this recipe, as well as many others that'll inspire your weeknight meals, plus breakfast and dessert recipes—all are either super quick or made in the slow cooker. Please support The Faith Middleton Food Schmooze® and all of WNPR's programming with a pledge of $11 a month; we will send you Gina's  inspiring cookbook, Skinnytaste Fast and Slow with our sincere thanks. Make your pledge now.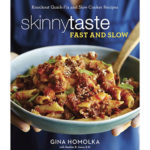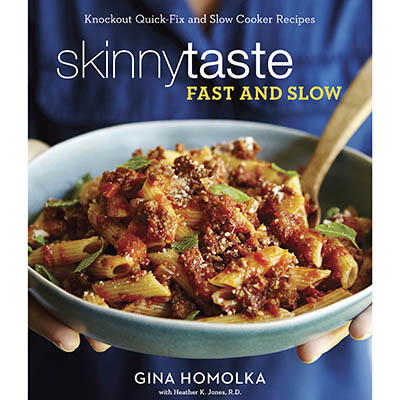 Reprinted from Skinnytaste Fast and Slow. Copyright ©2016 by Gina Homolka. Photographs copyright ©2016 by Helene Dujardin. Published by Clarkson Potter/Publishers, an imprint of Penguin Random House, LLC.

Preheat the oven to 450°F. Spray 2 baking sheets with olive oil.

Cut the pizza dough into 4 pieces that are 3 ounces each. Sprinkle a work surface with a little flour and, using a rolling pin or your hands, stretch each piece of dough into a rectangle about 4-1⁄2 x 9-1⁄2 inches. Place them on the prepared baking sheets. Using a fork, poke a few holes in the center of the dough to prevent bubbles.

Bake until the crusts are golden, 8 to 12 minutes.

Meanwhile, in a large bowl, combine the onion, tomatoes, olive oil, vinegar, salt, and pepper to taste. Add the greens and toss well.

Remove the crusts from the oven and let cool for 5 minutes. Brush each crust with 1 teaspoon of the balsamic glaze. Divide the salad among the crusts (about 1 heaping cup each) and top each with 1⁄2 ounce of the Gorgonzola.
Nutritional information for this recipe:
PER SERVING 1 pizza
CALORIES 335
FAT 12.5 g
SATURATED FAT 4 g
CHOLESTEROL 15 mg
CARBOHYDRATE 47 g
FIBER 4.5 g
PROTEIN 14 g
SUGARS 11 g
SODIUM 798 mg