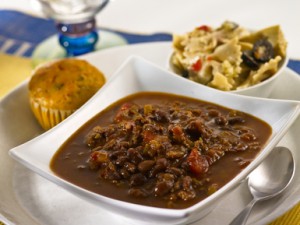 What makes a chili unforgettable? When the meat and the right combo of spices are cooked slowly enough to make them melt into the sauce. This is the recipe that makes that happen, and the unsweetened cocoa powder addition is masterful, adding dark, dusky flavor.
I first discovered this recipe in Cooking Slow, by Andrew Schloss, a highly respected cookbook author, whose new book features recipes "for slowing down and cooking more." You'll find dishes made by roasting, braising, baking, grilling, frying and steaming. Lucky for us, there's a whole section on using a slow cooker.
Senior contributor Chris Prosperi of Metro Bis Restaurant in Simsbury, Connecticut, whipped up my favorite turkey chili, and why wouldn't I ask him to? He has nine, and I'm not kidding, nine slow cookers.
If you have a crowd coming for movie night, football, or simply to get together, this is your dish.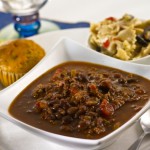 Recipe from Cooking Slow: Recipes for Slowing Down and Cooking More Published by Chronicle Books 2013
| | | |
| --- | --- | --- |
| | | Recipe from Cooking Slow: Recipes for Slowing Down and Cooking More Published by Chronicle Books 2013 |
Preheat the oven to 200°F.

In a large Dutch oven, heat the oil over medium heat. Add the onion and sauté until it softens, about 4 minutes. Add the chile and garlic and sauté briefly until aromatic, about 30 seconds. Add the turkey and season generously with salt and pepper. Sauté, chopping and scraping with a spatula to separate the chunks of ground meat and to help it cook evenly.

When the turkey is mostly cooked, add the cumin, oregano, chili powder, and cornmeal and cook, stirring constantly, until the mixture is aromatic, about 3 minutes. Add the chicken broth, tomatoes, and cocoa powder. Stir until the mixture simmers and the cocoa dissolves. Stir in the beans and cover the pot. Transfer to the oven and cook until the meat is very soft and the flavors are very fragrant, 4 to 8 hours.

Just before serving, taste and adjust the seasoning with salt and pepper. Stir in the cilantro and serve.
Variation:
In a slow cooker Follow the recipe, but transfer the chili to a 6-qt/5.7-l slow cooker after the beans are added. Cook on low for 5 to 7 hours.
Prep time: 15 minutes Cooking time: 4 to 8 hours Store: for up to 3 days, covered in the refrigerator. Reheat gently in a low oven or over low heat.