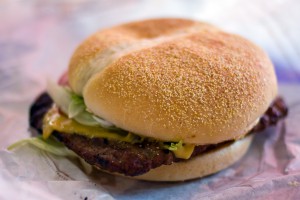 Combine the inside of turkey sausages (casing removed) with chopped sirloin and turkey bacon, and you have a delicious burger on your hands. Serve it on a plate with fresh spiach and tomatoes, or on a wheat bun.
Preheat grill to 300° to 350° (medium) heat. Combine sausage, sirloin, cheddar, chili powder, ground chipotle chile pepper, and salt in a large bowl just until well blended. Shape into 4 patties. Place patties on grill, and cook 10 minutes per side or until cooked through.

Toast buns on grill toward end of grilling time. Serve burgers topped with bacon, spinach, tomato, and Chipotle Aïoli, if using.
Whisk together mayonnaise, yogurt, mustard, vinegar, and pepper or hot sauce in a small bowl. Serve immediately, or cover and refrigerate up to 2 weeks. Makes 2/3 cup.