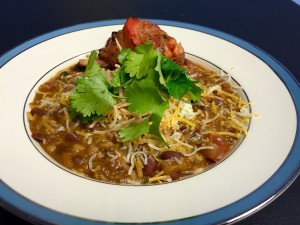 Seconds, please! It's the chunky butternut squash and beer that give this fantastic meatless chili its richness and appeal. Add in tomatoes, beans and the perfect mix of spices, and you've got an enormous crowd-pleaser. Add whatever you'd like on the side — cheese, cilantro, sliced avocado, or olives to turn this into the one-pot equivalent of taco night.
This is a Chris Prosperi original, first created on the fly. Now he can't make it fast enough for chili fans, even the meat-loving variety. (Senior Contributor Chris Prosperi is chef and co-owner of Metro Bis in Simsbury, Conn.)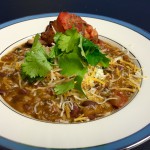 Heat the oil in a medium to large pot over high heat and stir in the chopped onion. Saute for three minutes. Add the cubed squash and cook for an additional two minutes. Toss in the chili powder, cumin, granulated onion and garlic, then stir well to combine. Add in two cans of chopped tomatoes, return to a simmer and cook for three minutes. Add beer and return to simmer for five minutes. Add the vegetable stock and cook until the squash becomes soft, about 15-20 minutes.

Stir in the drained, well-rinsed beans and continue to simmer for two minutes. Add the chopped cilantro (or scallions). Season with salt and pepper to taste. Serve with bowls of any garnish you like, such as olives, cheese, sour cream, avocado, tortilla chips, etc.