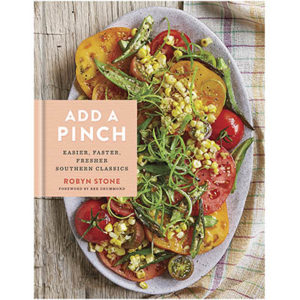 I think Robyn Stone invented a cuisine type. I'm calling it Southern Fresh. Somehow, she manages to capture the essence of her family matriarchs' Southern cooking without the heaviness (oh, the cream, the margarine, the—no apologies—lard!) that often makes those classics so over-the-top delicious. But, Robyn's cookbook, Add a Pinch, an extension of her very popular blog, is all about easier, faster, fresher. It's Southern Fresh on a weeknight. And it's real-deal.
ON-DEMAND: Listen to Faith and Robyn talk about the recipes in Add a Pinch.
Robyn's creamed corn is a perfect example of what you'll see throughout the book: the recipe is based on her grandmother's, Robyn's reduced the amount of butter from the original recipe, and she's added a step in the instructions that ensures the creaminess you'd expect from a legit creamed corn. You'll give one cup of the cooked corn a spin in the blender. Add it back to the remaining corn, and all your mouth registers is creamy goodness. This is a trick everyone should try.
Southern classics abound, of course: pimento cheese, barbecue, honey ham, roasted okra, collard greens, chicken and dumplings, biscuits, spoon bread, pecan pie, peach crisp, and sweet tea. Plus, you'll find plenty of fresh-looking salads and one-dish weeknight meals that are either quick to make or cooked in a slow cooker. She's thought of everything.
Get a taste of this book:
Citrus Shrimp
Aunt Lulu Belle's Lemon Meringue Pie with Mile-High Meringue
Georgia Peach Crisp
— Robyn Doyon-Aitken
Senior Producer