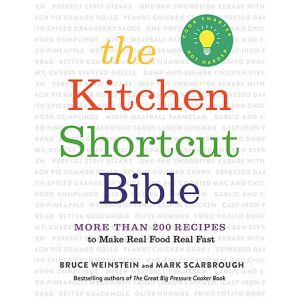 The latest book from the dynamic culinary duo Bruce Weinstein and Mark Scarbrough is right up our alley. Yours, too. The Kitchen Shortcut Bible is filled with recipes and hacks that make your cooking life easier, more interesting, and just plain fun.
These aren't shortcuts for shortcuts' sake. Bruce and Mark's tried-and-true tricks get dinner on the table. Sometimes the shortcuts are for speed, but not always. Did you know you can put a frozen turkey in the oven on Thanksgiving and still gather 'round the table at 2:00? You can prep slow cooker packets (broth, veggies, and spices) and freeze them until the day you'd like to make them. No more early-morning slicing and dicing. We're also crazy about the authors' many inventive ways to cook things in the waffle iron. No-flip omelets are just the beginning. You'll find inspiration for microwave desserts and pasta dishes, hacks for dumpling wrappers, and alternate uses for your Bundt pan.
We had the best time talking with Bruce about his favorite shortcuts and food hacks. Listen to our conversation on-demand and try out some of the recipes in the book. Don't forget to share your own shortcuts with us!
Get a taste of this book:
Three No-Flip Omelets
Microwave Pasta Carbonara
Porcini and Orange Braised Short Ribs
Freezer–to-Oven Whole Turkey
Bistro Bundt-Pan Chicken with Shallots and Potatoes