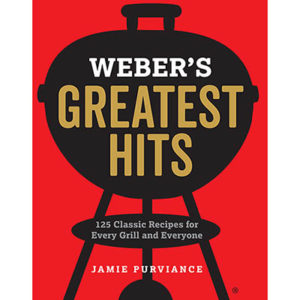 It's no secret that we're Weber fans around here. Chris Prosperi admits to owning four different Weber grills. "They're all so good," he says. "And, the duel fuel grill. . .that one rocks!" If you're a regular listener to The Faith Middleton Food Schmooze®, you know that Chris has many more slow cookers than grills, but still. It says something that a man believes he needs four different grills; and that all four are from Weber. It makes sense that the makers behind America's most popular grill would produce a cookbook filled with simple classic recipes grillers of all skill levels can make. In the new cookbook, Weber's Greatest Hits, master griller Jamie Purviance is your guide to grilling.
• ON-DEMAND: Listen to Faith and the gang talk to Jamie about this book. •
Follow Jamie's "Top Ten Tips for Grilling Greatness" and his "Top Five Tips for Grilling Like an Expert," and you can take on any recipe in the book. Jamie is the "master" behind the recipes as well, and you'll (happily) find yourself cooking your way through the book all summer long.
Get a taste of this book:
Hickory-Smoked Beer Can Chicken
Beef Tenderloin with Seared Mushrooms and Red Wine Vinaigrette
Pineapple Upside-Down Cake
— Robyn Doyon-Aitken
Senior Producer