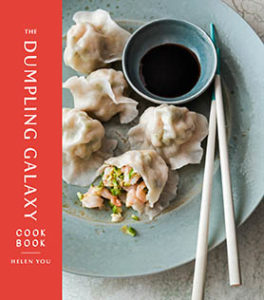 If you LOVE dumplings, you'll be in dumpling heaven thumbing through Helen You's The Dumpling Galaxy Cookbook. With co-writer Max Falkowitz, Helen takes the gems of her Flushing, Queens restaurant and gives you the confidence you need to make a galaxy of dumplings in your own kitchen.
ON-DEMAND: Listen to Faith and Max talk about the recipes in The Dumpling Galaxy Cookbook.
Homemade dumpling dough makes a world of difference, so if you're ambitious, by all means, try Helen's recipe for Boiled or Panfried Dumpling Dough and Steamed Dumpling Dough (there is a slight difference in the doughs). BUT, if unlike Helen, you need more than a couple of hours of sleep every night, go ahead and buy the dumpling wrappers—they're widely available in markets now. As Max said to us during the show, "A dumpling with a store-bought dumpling wrapper is better than no dumpling at all." Amen to that.
It's really all about those fillings anyway.
Get a taste of this book:
THE classic: Pork and Chive Dumplings
The Lucky dumpling: Eight-Vegetable Dumplings
The untraditional dumpling: Salmon and Dill Dumplings