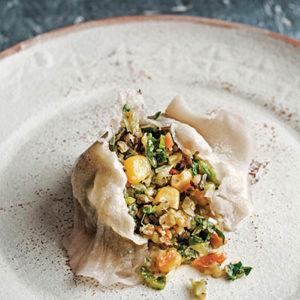 The number eight signifies good luck in China, and in this dumpling, eight kinds of vegetables come together to make a concentrated, lip-smacking soup right in a dumpling skin. You'll want to chop your vegetables fine so the filling sticks together, but go ahead and leave in some chunks, like those corn kernels, for more varied texture.
— Helen You
If you make the wrappers from scratch, you'll need Helen You's recipe for Boiled Dumpling Wrappers.
ON-DEMAND: Listen to Faith and co-writer Max Falkowitz talk about these dumplings, as well as other dumplings for Chinese New Year.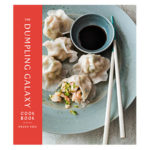 Excerpted from The Dumpling Galaxy Cookbook by Helen You with Max Falkowitz. Published by Clarkson Potter, an imprint of Crown Publishing Group, a division of Penguin Random House, LLC. Copyright ©2017 Helen You. Photograph ©2017 Ed Anderson.

Wrap the cabbage, corn, carrots, and bamboo shoots in a clean cheesecloth or tea towel and squeeze to wring out excess moisture. In a medium bowl, use your hands to combine the bok choy, celery, mushrooms, broccoli, sesame oil, salt, and pepper, and mix until well blended. Gently fold in the cabbage, corn, carrots, and bamboo shoots, and mix until fully incorporated.

Bring a large pot of water to a boil. Meanwhile, make the dumpling wrappers. Holding a wrapper in your palm, use a fork to add about 1 tablespoon of the filling to the center of the wrapper, then lightly pat down the filling with the fork to get rid of any air bubbles.

Fold the dumpling into the round yuan bao shape, lightly squeezing the dumpling to push out any air bubbles. Inspect the dumpling for any holes and pinch them shut. Repeat with the rest of the wrappers.

Working in batches, add the dumplings to the pot, 6 at a time. Boil for 2 minutes on high, then reduce the heat to medium-high and cook for 1 minute, then reduce the heat again to medium and cook for 2 more minutes. The dumplings are ready a minute or so after they rise to the surface; their skins will turn puffy. Using a slotted spoon, gently transfer the dumplings to a plate and serve immediately. Bring the water back to a boil over high heat and repeat with the remaining dumplings.