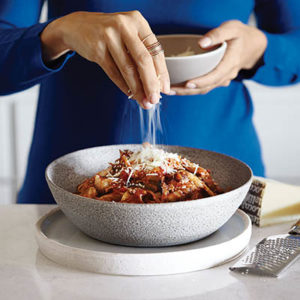 I was always happy when Mom made chicken cacciatore for dinner. We would eat it over pasta with lots of freshly grated cheese on top. Now, whenever I make this dish, I always think of my mom. Since the sauce is hearty and chunky, it's perfect to make in the slow cooker. While any part of the chicken works great, I prefer to use skinless chicken thighs that are still on the bone. The chicken comes out so juicy and tender, and the bones add flavor to the sauce. I find that when you make this without the bone, the meat tends to be dry. Once the sauce is cooked, I remove the chicken from the bone and shred it, so you get chicken in every bite.
Perfect Pairings: This is great over whole wheat or gluten-free spaghetti (DeLallo is my favorite brand), as well as rice or polenta. For a low-carb option, serve it over spaghetti squash.
— Gina Homolka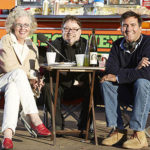 ON-DEMAND: Listen to Faith and Gina talk about this recipe, as well as many others that'll inspire your weeknight meals, plus breakfast and dessert recipes—all are either super quick or made in the slow cooker. Please support The Faith Middleton Food Schmooze® and all of WNPR's programming with a pledge of $11 a month; we will send you Gina's  inspiring cookbook, Skinnytaste Fast and Slow with our sincere thanks. Make your pledge now.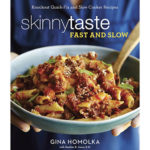 Reprinted from Skinnytaste Fast and Slow. Copyright ©2016 by Gina Homolka. Photographs copyright ©2016 by Helene Dujardin. Published by Clarkson Potter/Publishers, an imprint of Penguin Random House, LLC.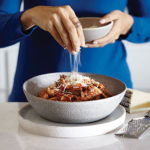 Season the chicken with the salt and pepper to taste. Heat a large nonstick skillet over medium-high heat. Coat with cooking spray, add the chicken, and cook until browned, 2 to 3 minutes per side. Transfer to a slow cooker.

Reduce the heat under the skillet to medium and coat with more cooking spray. Add the garlic and onion and cook, stirring, until soft, 3 to 4 minutes. Transfer to the slow cooker and add the tomatoes, bell peppers, mushrooms, thyme, oregano, and bay leaf. Stir to combine.

Cover and cook on high for 4 hours or on low for 8 hours.

Discard the bay leaf and transfer the chicken to a large plate. Pull the chicken meat from the bones (discard the bones), shred the meat, and return it to the sauce. Stir in the parsley. If desired, serve topped with Romano or Parmesan.
Nutrition information on this recipe:
PER SERVING 1 cup
CALORIES 220
FAT 6 g
SATURATED FAT 1.5 g
CHOLESTEROL 123 mg
CARBOHYDRATE 10 g
FIBER 2 g
PROTEIN 31 g
SUGARS 6 g
SODIUM 319 mg