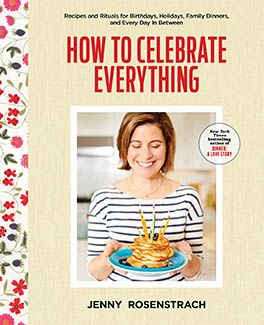 It's SO easy to love Jenny Rosenstrach's new book, How to Celebrate Everything. The woman who made news by journaling her nightly dinners (for years!) captured in Dinner: A Love Story, does it again with a book that's not only a celebration of celebrations, but also of the everyday moments that remind us how lucky we are to be together—to be family.
Ritual (NOT to be confused with routine) rules the day, and after flipping through How to Celebrate Everything (which includes lots of Jenny's fun family photos and journal pages), you'll wish Jenny and husband Andy, would adopt you. Since that's impossible, it's up to you to invent or embrace the rituals that make your family a family. Your food-memories (past, and the ones you've yet to create) don't have to be fancy, they just have to be meaningful. And delicious.
Embrace it. Things worth celebrating aren't just the biggies: Thanksgiving, Christmas, Hanukkah, Easter, Passover, etc. The first day of first grade. It's only happening once, guys. Family dinner? Absolutely. We've made it to Wednesday. I love this idea. Being a mom is hard. Being a family is hard. Find joy in every big and little thing you can. If you love to cook for family, you'll find lots of it in this book.
—Robyn Doyon-Aitken
Senior Producer
Get a Taste of the recipes in How to Celebrate Everything
Party Latkes (Watch the recipe in action)
Sour Cream Chocolate Chip Loaf
New Year's Eve Steamed Lobsters with Champagne Butter
Jenny's Chocolate Cream Pie