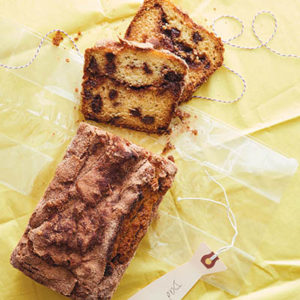 At any point during the 1980s, you could've opened the middle pantry drawer in our kitchen and discovered a treasure trove of baked goods from our supermarket's Entenmann's display: fudge-frosted doughnuts, mini chocolate chip cookies, thick-glazed cupcakes. My father had—and still has—an epic sweet tooth that deserves a three-hundred-page volume all to itself. The king of the drawer, though, was the Sour Cream Chocolate Chip Nut Loaf, because it only made rare appearances at the supermarket, and, much to our dismay, eventually disappeared from shelves across the country. (We never did find out why.) My father and I were the biggest fans of the loaf, and in the twenty-five years since I've seen it, I don't think I've ever walked by the Entenmann's section without secretly hoping I'll spy one amid the doughnut holes and crumb cakes. Until then, I have this homemade version, which comes about as close as you can get.
On-Demand: Listen to our conversation with Jenny Rosenstrach on The Faith Middleton Food Schmooze.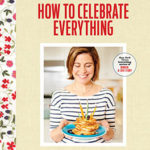 Excerpted from How to Celebrate Everything by Jenny Rosenstrach. Published by Ballantine Books, a division of Penguin Random House. ©2016 Jenny Rosenstrach, photography by Chelsea Cavanaugh.

In a small bowl, mix together the sugar and cinnamon.
Preheat the oven to 375°F. Butter a 9 by 5-inch standard loaf pan.

In a large bowl, using an electric mixer at medium speed, beat the eggs until frothy, about 3 minutes. Add the sugar and vanilla, beating until smooth. In a medium bowl, whisk together the flour, baking powder, baking soda, and salt.

Add the melted butter and the sour cream to the egg-and-sugar mixture; beat until well combined. At low speed, add the dry mixture to the wet mixture a spoonful at a time, beating just until smooth. Fold in the chocolate chips.

Spread half of the batter in the prepared pan and sprinkle evenly with about two-thirds of the cinnamon sugar. Sprinkle with the walnuts. Top with the remaining batter, spreading evenly. (This cake rises considerably, so be sure the batter is at least ¾ inch below the rim of the pan.) Sprinkle with the remaining cinnamon sugar.

Bake for 45 to 50 minutes or until a knife or skewer inserted in the center comes out clean.