Putting a mouth-watering combination of things on top of bread, drizzled with olive oil and grilled golden brown, is as easy as it is delicious. On each of our grilled "rafts" we give you two or three ingredients that are terrific together as apps, or you can put out a platter of several types as a tapas-style meal.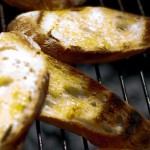 Place all ingredients in bowl of food processor and puree into paste
Split pita bread in half.

Cut each half into triangles and arrange on a baking sheet.

Drizzle or spray a little oil on the triangles and bake in a preheated 350-degree oven for about 15 minutes, or until the pita sections begin to crisp and turn golden brown.
You can, of course, gussy up these triangles in different ways while they bake. Sprinkle on some toasted cumin or curry powder, use a flavored oil or spoon on some minced roasted garlic, top with a pinch of fresh herbs.