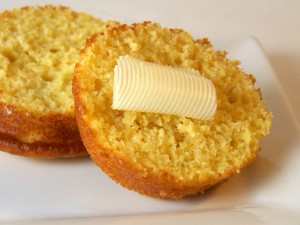 Great for Thanksgiving and eight other months of the year—cornbread stuffing muffins baked in a muffin tin. How about passing that around at your holiday table? I found this recipe in an issue of Cooking Light magazine and had to give it a whirl.

Heat a large nonstick skillet over medium-high heat. Add sausage to pan; sauté 4 minutes, stirring to crumble. Add onion, celery, and butter to pan; sauté 5 minutes, stirring occasionally. Stir in sage, thyme, salt, and pepper; cook 1 minute. Stir in celery leaves.

Combine stock, oil, and eggs in a medium bowl, stirring with a whisk.

Combine baking powder and corn bread mix in a medium bowl. Add stock mixture and onion mixture, stirring just until moist. Spoon batter into 12 muffin cups coated with cooking spray. Sprinkle evenly with chopped pecans. Bake at 400° for 12 minutes or until lightly browned.