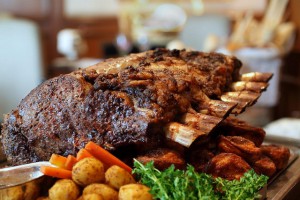 Our Food Schmooze crew decided to throw a Downton Abbey dinner party on the air to celebrate the return of the beloved PBS series, Season 4. We've provided you with all of our recipes in case you decide to have your own Downton Abbey feast.
We spent hours re-watching episodes, to see what was on those platters served at table, and we researched the food of the period to understand what our choices might be for a dinner in the Downton style. (Chris Prosperi had never seen the series, and is now hooked.)
I'll admit it, I salivated reading about crispy bone-in roasts, oysters on the half shell, salads with port wine dressing and Stilton cheese, followed by thick English cream and fresh berries…and then swooned at the idea of glorious wines to match, including Pol Roger Champagne, a red Bordeaux and port.
Of all the recipes we discovered, we were most inspired by the menu from Epicurious, so we have tweaked it to match our own tastes as well as the period.

Madeira Green Peppercorn Sauce
Mix ingredients and coat the roast.

Preheat oven to 425°F. Cook for 15 minutes. Lower to 350° for 1½ hours. Internal temperature 125°–130° is medium rare.
Madeira Green Peppercorn Sauce
While meat stands, add the oil and shallots to skillet and cook over moderate heat, stirring, until golden, about 2 minutes.

Add Madeira and deglaze skillet by boiling and stirring until liquid is reduced by half, about 1 minute.

Add demi-glace and boil, stirring, until sauce is slightly thickened, about 1 minute.

Stir in peppercorns and butter, then remove from heat.

Season to taste with salt if necessary.