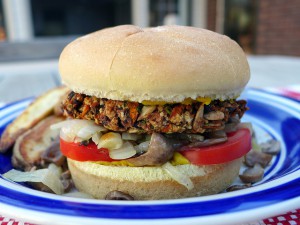 Our problem with veggie burgers is the lack of powerful flavor and texture, so Chris and I issued ourselves a challenge — to come up with the best-tasting version we could. While Chris made an outstanding burger, we all decided we missed the "chew factor." That's where the Indian burger surged ahead. (Crazy because Chris is a much better cook than I am by at least a mile.)
Basically, I thought of veggies that would work well together, added walnuts and brown rice for texture, and I guess worked. (Feel free to use cashews if you prefer; sometimes I do.)
Like most recipes I make, the idea is to have fun playing with it. Don't want Indian? Go Chinese. Or Greek. Or Italian. All you can do is make a mistake and try again, though you might want to use your best version if company is coming over.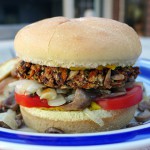 In a large bowl mix all the ingredients well.

Form into individual patties.

Grill, broil or pan-fry the burgers until done.
This recipe can be made gluten-free by using gluten-free bread crumbs and gluten-free hamburger buns. (Be sure to check whether your hot sauce is gluten-free.)
Faith sometimes uses Trader Joe's Indian Simmer Sauce in a jar to boost the curry flavor.