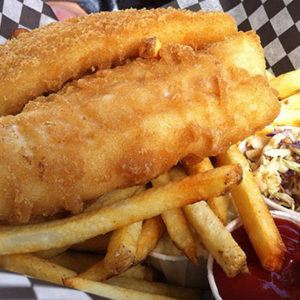 Often sorely missed by the gluten-free population, this recipe succeeds in bringing back an angler's favorite—tender batter-dipped fish and chips, cooked to golden perfection and topped with a tartar sauce . . . yum!
From Quick-Fix Gluten Free by Robert M. Landolphi/Andrews McMeel Publishing
Read our review to learn more about Quick-Fix Gluten-Free, and to hear Robert describe many of the recipes in the book,  listen on-demand to the episode where he was our special guest.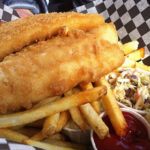 In a large saucepan, heat 3 inches of oil over medium-high heat until it reads 320°F on a deep-fat thermometer.

Cut the potatoes into ⅛-inch slices and fry, parcooking the chips for 2 to 3 minutes. Place on paper towels to cool completely. Increase the temperature of the oil to 350°F and fry the chips a second time for 2 to 3 minutes, until golden brown.

In a medium bowl, mix together the white rice flour, baking powder, 1 teaspoon of the kosher salt, the Old Bay Seasoning, and the cayenne. Add the egg yolks and beer and whisk until a smooth batter forms. Set aside.

Pat the fish fillets dry with paper towels and cut into ½-inch strips. Dredge the fish strips in the cornstarch and dip into the beer batter. Allow the excess batter to drip off and lower into the hot oil. Cook the fish for 3 to 4 minutes, until golden brown, and serve with tartar sauce.