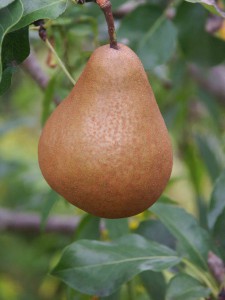 This recipe is a puree of Bosc pears and parsnips, made snappy by a little citrus zest and ginger. We love this. And you can make it a couple of days ahead.  

Preheat the oven to 350 degrees.

Place the parsnips, pears, and 2 cups of water in a large saucepan and bring to a boil. Lower the heat, cover, and cook for 15 to 20 minutes, until the parsnips and pears are both very tender. With a slotted spoon, transfer them into a food mill fitted with the coarsest blade set over a bowl, and process.

Meanwhile, combine the butter, sour cream, eggs, orange zest, ginger, 2½ teaspoons salt, and 1 teaspoon pepper in a medium bowl. Whisk in the hot purée, pour it into a 9 x 12 x 1½-inch oval gratin dish, and smooth the top. Bake for 40 to 50 minutes, until slightly puffed and golden on top. Serve hot.