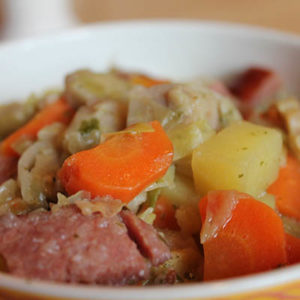 We love this twist on classic corned beef and cabbage from Senior Contributor Chris Prosperi. Must be because we can't get enough of that cousin of the cabbage, Brussels sprouts. They'll soften and become tender in the last 30 minutes of the stew's cook time. Serve with the easiest sauce of all time: a simple mix of really good mustard and sour cream.
• ON-DEMAND: Listen to Faith and the gang describe this recipe, as well as other twists for St. Patrick's Day on The Faith Middleton Food Schmooze®. •
Photo: Pixabay.com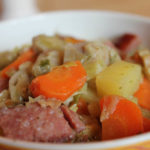 Place the corned beef chunks and spices from the packet in the slow cooker. Top with diced onion, chopped carrots, and chopped red potatoes. Pour in the beer, cover, and set on low and cook for 8 hours. Then place the halved Brussels sprouts into the crock pot. Cook for an additional 30 minutes or until the sprouts are soft.

In the meantime, mix the mustard and sour cream together and set aside. Then ladle the stew from the slow cooker into bowls. Serve with the mustard sauce on the side.