Years ago in southern California, at ocean-side Montage Resort, I ordered the same thing for six lunches in a row—Thai summer roll with dipping sauce. It was a knockout, and now we can tell you how to make delicious ones at home. We can tell you how thanks to a respected chef, Gale Gand, author of Gale Gand's Lunch! As Gale told us, she learned from a Thai woman who was making them as fast as she could manage for thousands of hungry fans at the Lollapalooza music festival.
In this authentic Thai recipe, thin sheets of rice paper are stuffed burrito style with vegetables and shredded chicken that has been tossed in sesame oil, soy sauce, lime juice, and a touch of honey. The chili-garlic dipping sauce served alongside is now available in almost any major supermarket.
In some circles these are rolled about the thickness of a fat cigar… I make mine twice that. (Just try not to rip the delicate and moist rice papers.)
Trust me, this is the way to get the non-vegetable eater to enjoy vegetables as never before.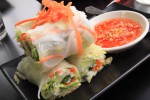 Easy Thai Summer Rolls

Recipe from Gale Gand's Lunch!, published by Houghton Mifflin Harcourt, 2014
Servings
2
as a main course
Ingredients
Servings: as a main course
Instructions
In a bowl toss together the chicken, cucumber, carrot, lettuce, and sprouts.

In a small bowl, whisk together the soy sauce, sesame oil, lime juice, and honey. Pour the soy sauce mixture over the chicken mixture and toss to coat.

Soak a clean dishtowel with water and ring it out very well. Turn an 8- or 10–inch cake pan upside down and cover it with the towel.

Fill a pie plate with warm water. Dip one of the rice paper sheets into the warm water, moving it around for about 30 seconds, until it becomes translucent. (Do not leave it soaking in the water or it will become too soggy.) Quickly place the rice paper on the towel–covered cake pan and use it immediately.

Place one–quarter of the chicken mixture along the front edge of the rice paper, top with a few basil and mint leaves, and roll the rice paper into a tight summer roll shape, tucking the ends in as you roll. Repeat with the remaining rice paper sheets and chicken mixture.

Serve at room temperature, with the chili sauce on the side for dipping.
Recipe notes
These summer rolls keep in an airtight container in the refrigerator for up to 2 days.