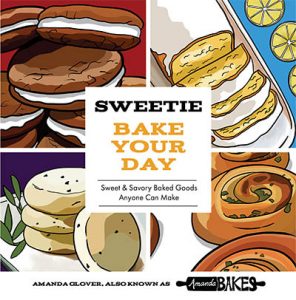 If you've ever visited the Morris Marketplace, you've seen her: Sweetie. She's an Airstream. Local baker Amanda Glover (a.k.a. Amanda Bakes) is the genius behind Sweetie, the Airstream-turned-bakery, where you'll find the most delicious baked goods for miles. In her first cookbook, Sweetie Bake Your Day, Amanda shares the most popular recipes coming out of the Airstream each week and served at the parties she caters (yes, the Airstream can be parked at your wedding or event—which we think is the most fun thing!).
• ON-DEMAND: Listen to Faith's conversation with Amanda about Amanda's new book, her recipes, and her Airstream bakery. •
With Sweetie Bake Your Day, you can make Amanda's baked treats in your own home. Like us, Amanda is an advocate for using the best quality ingredients you can afford, and finding them as close to you as possible. For her, that means she gets eggs from her local farmer, berries from local orchards, and wine, an ingredient in her unbelievably good Chocolate Merlot Cake, from Sunset Meadow Vineyard (SMV), in Goshen, Conn. (The raspberries in the Raspberry Lemonade Bars she served us came from her own garden; you can't get more local than that).
Get a taste of Amanda's book:
Chocolate Merlot Cake
Gluten Free C.A.T. (Chocolate-Almond-Toffee) Cookies
Oatmeal Cream Pies (Sandwich Cookies)
Raspberry Lemonade Bars
Sweetie Bake Your Day is available on Amazon, of course, or Amanda's site (Amandabakes.com), or at these Connecticut  booksellers:
Hickory Stick Bookshop (Washington Depot)
Kitchenworks and Gourmet Gifts (Litchfield)
The Green Tomato Deli (Morris)
Nutmeg Olive Oil Company (New Milford)
White Memorial Foundation Gift Shop (Litchfield)
Bank Street Book Nook (New Milford)
The Smithy Store (New Preston)
The Pantry of Washington CT
Sunset Meadow Vineyards (Goshen)
House of Books (Kent)
Meraki (Litchfield)
Bella Luna Gifts (Morris)
March Farms (Bethlehem)