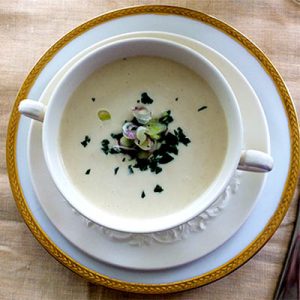 On a hot summer day, there's not a more refreshing lunch than a chilled soup. This one, made from farm-fresh fennel and potatoes was as delicious as it was beautiful.
Recipe provided by Pauline Lord, owner of White Gate Farm in East Lyme, CT.
The soup was prepared by chefs Paco Rodriguez and Lesley Moore.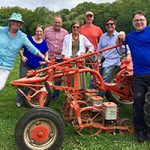 Read about our Food Schmooze® road trip to White Gate Farm and listen to the show we recorded in the farmhouse with special guests Pauline and farm manager Kent Girty.

Toss fennel with olive oil to coat and a little salt. Roast in a 400 degree oven for about 30 minutes until lightly brown.

Cook the potatoes in salted water to cover until just tender.

Melt the butter in a skillet and cool the onions and garlic gently, tossing them lightly, for a few minutes. Add the chicken broth and bring to a boil. Lower the heat, add roasted fennel and simmer with the onions and garlic until tender.

Strain the potatoes, add to the broth mixture and season to taste with salt, pepper. Put this in the blender (you will need to blend it in two lots) and blend for 1 minute, or until smooth. Chill.

When ready to serve, mix in heavy cream in half cup measurements until desired consistency. Taste and re-season with salt and white pepper if necessary.

Garnish with scallions, chives and cucumber.