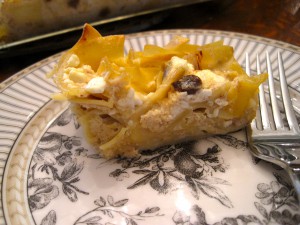 We're excited about this mouth-watering kugel from our contributor, Danielle Padula. Her mission, and our dream, was to create a kugel with a beautiful balance of spices that could shine through without being overpowered by cream.
What Danielle made for us has true richness without all the fat, yet sings with flavor. Make a lot; we're sure your guests will want seconds and thirds on this one!
(Food Schmooze® listener Danielle Padula, is a home cook, food writer and staffer in the test kitchen at Fine Cooking magazine.)

Cook noodles according to package directions and drain. Place in 9''x13'' greased baking dish and set aside.

Position rack in the center of the oven and heat to 350 degrees. In a small skillet, melt butter and cook shallots over low heat until translucent and slightly golden, about 3 minutes. Set aside to cool.

In a medium bowl, whisk together the eggs. Add the rest of the ingredients and the buttered shallots. Mix to fully combine.

Pour mixture into the baking dish and toss to completely coat the noodles. Bake for 45 minutes, or until golden brown on top. Let cool for 5-10 minutes before serving.