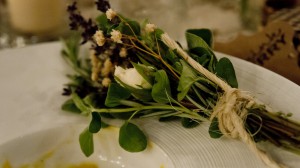 As soon as beef starts to melt while it's cooking, you know you're in for a treat. Next question, what's the sauce you've added, to make it praise-worthy? In this case, Saveur magazine gives as a German sauerbraten, as it's traditionally called, with everything you need to make it fabulous on the plate and on the palate. Oh, we were so happy with this.

Season beef liberally with salt in a large bowl. Bring wine, vinegar, 1 onion, the carrot, bouquet garni, and 4 cups water to a boil in a 4-qt. saucepan, then pour this marinade over beef. Cover and refrigerate, turning once or twice a day, for 5 days. Remove beef from marinade; pour marinade through a fine sieve into a bowl and dry beef thoroughly. Reserve 5 cups of the marinade and the bouquet garni.

Heat 2 tbsp. butter and bacon in an 8-qt. Dutch oven over medium-high heat and cook until bacon renders its fat, about 10 minutes. Transfer bacon to a plate. Add beef and cook, turning, until browned all over, about 25 minutes. Transfer to a plate.

Heat oven to 325°. Add remaining 2 onions to pot and cook, stirring, until caramelized, about 18 minutes. Return beef to pot with reserved marinade and bouquet garni and bring to a boil. Cover and bake until beef is very tender, about 2 1⁄2 hours. Transfer beef to a platter and pour sauce through a fine sieve into a bowl.

Return pot to medium-high heat and add remaining butter. Add flour and sugar and cook, whisking constantly, until lightly browned, about 5 minutes. Add sauce, raisins, gingersnaps, and lemon juice; return beef to sauce. Bring to a simmer, cover, and cook until slightly reduced, about 10 minutes. Thinly slice beef and arrange on a platter. Spoon sauce over top and sprinkle with bacon and parsley.
Tie all ingredients together securely with kitchen twine. Alternatively, bundle all ingredients together in a loose cheesecloth pouch and secure with kitchen twine.