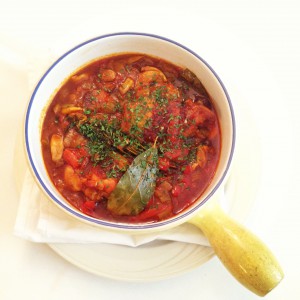 Say "vinegar chicken" to someone who knows how good this dish can be, and the air starts to sizzle, usually followed by, sigh, "Oh, how I love that dish!" Now you can make one of the best versions of it, thanks to Roy Ip.
Ip is chef and co-owner of the Branford, Ct., French bistro, Le Petit Cafe, a charming and intimate spot where you could book half your doctor appointments, or eavesdrop on the latest research results; the place is often loaded with fun-loving Yale professors, doctors, and scientists. They make the 15-minute trip from New Haven to Branford because they love Roy's food and care, but they might be surprised to learn that Roy likes to make his special Vinegar Chicken at home, where an orphaned public radio interviewer has been known to show up, starving.
Roy's cafe dinner menu is inspired-French, and yet it is dotted with flourishes reflecting his Asian heritage—an appetizer of spicy soba noodles topped with shrimp, or Mirin-style sea bass. After so many years in Hong Kong, Ip loves powerful flavors.
If it's powerful flavor you'd like to brighten a long winter with, this is the dish for you. And it's not expensive if you use my trick of going to a health food market, where you can buy spices in any amounts from covered bins, saving a ton of money. Once you have the ingredients on the counter, it comes together easily; no special skill required, including a Yale molecular biology degree.

Preheat oven to 375° degrees, Fahrenheit.

On the stove-top, add to a large cast-iron pot (such as Lodge or Le Creuset), butter, corn oil and chicken thighs, skin-side down. Brown thighs on medium-high for about three minutes per side. Remove the thighs from the pot and set them aside.

Discard two-thirds of the pot oil mixture. Lower the temperature to medium, add all the vegetables, salt, pepper and sugar, and cook for about 10 minutes, stirring frequently. Add the tomato paste and stir. Add the sherry vinegar and stir.

Add chicken stock to the pot and bring it to a boil. Return the chicken thighs to the pot mixture and add thyme, bay leaves, herbs de provences, and return to a boil. Place the pot, uncovered, in the oven for 45 minutes. Serve immediately, or cool to room temperature. The cooked dish can be refrigerated for up to five days, or freeze for up to two months.
use an 18-inch "oven-safe" saute pan because the pan will eventually move from stove-top to oven.