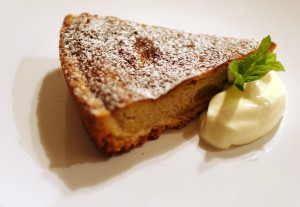 One of the best home cooks Faith knows, Linda Giuca of The Hartford Courant, shares her ridiculously easy and fabulous pumpkin tart with a crushed graham cracker and cinnamon crust. This even won over our pumpkin pie skeptics.
Linda Giuca and Chris Prosperi co-author the Hartford Courant column The Basics appearing on Thursdays.

Combine graham cracker crumbs and sugar in a mixing bowl. Add melted butter and mix well. Pat into the sides and bottom of a 9-inch tart pan. Bake in a preheated 350-degree oven for 10 minutes.
While crust is baking, combine filling ingredients in a mixing bowl. Beat with an electric mixer on medium speed until filling mixture is well blended. Pour filling into baked crust. Return to the 350-degree oven and bake for 40 to 45 minutes, or until the filling has set. Cool and refrigerate before slicing. Serve with whipped cream.