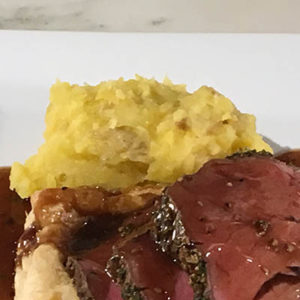 We've been thinking a lot about ways to dress up potatoes for Thanksgiving, Christmas, or any special occasion-meal really, (remember those Mediterranean Mashed Potatoes?). But when Chris Prosperi presented us with this squash-potato mash-up, we knew they'd pair perfectly with our Christmas centerpiece, a make-ahead Provençal Herb-Crusted Beef Tenderloin with Puff Pastry and Red Wine Sauce. And, BONUS: you can make these ahead, too. Just gently reheat on the stovetop.
ON-DEMAND: Listen to Faith and the gang rave about this recipe during our Food Schmooze® holiday road trip.
VIDEO: Watch Faith, Chris and Alex Province make the beef tenderloin we paired the mash with.
Place potatoes in a large pot, cover with cold water and bring to a simmer. Simmer gently for 30 minutes or until potatoes are cooked. Place the squash chunks in a large mixing bowl and toss with 1/4 cup of the olive oil, maple syrup, and salt and pepper to taste. Place on a baking sheet and roast in a pre-heated 375˚ oven for 15-20 minutes or until soft. Then strain the potatoes in a large colander in the sink. Transfer back to pot, add the cooked squash and mash with a large fork or potato masher. Season with sea salt and pepper. Next, drizzle half the olive oil on to the potato and squash mix and fold in. Repeat with the rest of the oil and mix well. Taste and adjust seasoning with salt and pepper.