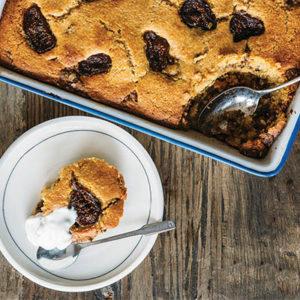 I developed this cake with breakfast in mind, maybe something to be shared when family was in town over several pots of coffee. But when I first made it, my kids named it corn-candy cake and called for it after supper. I obliged and put some whipped cream on top. Whenever you choose to eat it, feel good about baking it a day ahead. It keeps beautifully and is just as satisfying at room temperature as it is warm.
Excerpted with permission from Saveur magazine. Summer 2016, Issue#184.
Recipe and headnote by Vivian Howard, Photo by Tim Robison.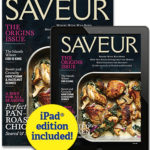 Editor-in-Chief Adam Sachs and Test Kitchen Director Stacy Adimando talked with Faith about this recipe in a special fundraising edition of The Food Schmooze®. With a contribution of $5 a month, you can subscribe to Saveur and support The Faith Middleton Food Schmooze® at the same time. We hope you will. Thank you!

In a medium bowl, toss together all the ingredients but the butter, taking care that everything is evenly distributed. Add the butter and pinch together with your fingers until it forms a wet crumb.
Preheat your oven to 375° and butter a 12-inch cast-iron skillet with 2 tsp. butter. Cut 1 cup of figs into eighths. Cut the remaining 2 cups in half lengthwise and set aside.

In a mixer fitted with the paddle attachment, cream together 1/2 cup butter and the sugar until light and fluffy, about 4 minutes. Add the eggs one at a time, making sure the first egg is fully incorporated before adding the second. From this point forward, make sure you scrape down the sides of the bowl periodically with a spatula. Add the cornmeal, roughly 1/2 cup at a time, until it's just incorporated. In a medium bowl, sift the flour, baking powder, baking soda, and salt. In another smaller bowl, whisk the buttermilk and vanilla. With the mixer on low, add the sifted flour and buttermilk alternately in three batches, ending with the flour. Using your spatula, fold in the sour cream and the cup of figs cut into. eighths.

Spoon half the corn-cake mixture into the bottom of the skillet and spread it out with a spatula. Sprinkle the streusel evenly over the top and finish with the remaining batter. Press the halved figs into the top, pink-flesh-side up, taking care not to cluster them together at the center. Bake uncovered, in the middle of your oven, for 45 to 50 minutes. Cool completely before serving.