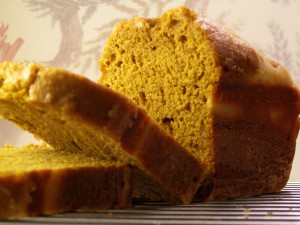 You know how it is…you're with a friend who serves something you can't get out of your head. Or, a friend walks in the door with something and in one taste you realize you've been sent to the moon. You utter the words, "Can I get that recipe?" That's what happened when Linda Giuca tasted a friend's pumpkin bread. Now, Linda has tasted countless things as the long-reigning food expert at The Hartford Courant, where she now co-writes a column. (She's also co-director with husband Bob of Al Forno Restaurant in Old Saybrook, Connecticut one of our favorite spots.)

Servings:
makes one large loag
Preheat oven to 350 degrees. Grease and flour a 9- or 10-inch baking stoneware dish or spray with vegetable spray and sprinkle with unseasoned bread crumbs.

In a medium bowl, mix together flour, cornmeal, baking soda, spices and salt; set aside. In a large mixing bowl, beat together butter and sugar until blended. Beat in pumpkin, eggs and water and mix just until blended. Stir in flour mixture. Fold in nuts and raisins.

Pour into prepared stoneware and bake 55 to 65 minutes or until a wooden skewer inserted into the center of the bread comes out dry. Cool in stoneware for 10 minutes. Cool completely on a rack.