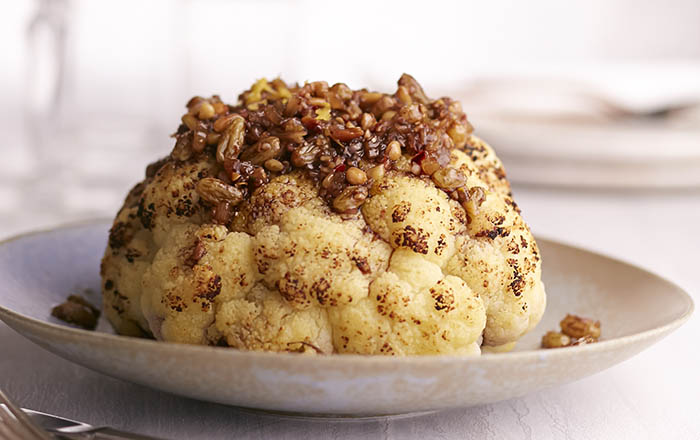 I tip my hat to New Orleans–based chef Alon Shaya, who provided me with the inspiration for this recipe. On a trip down to NOLA, I found his simply grilled cauliflower so delicious and transforming that when I returned home, this dish was one of the first things I came up with. If you or someone you know thinks of cauliflower as bland and uninteresting, please try it prepared this way.
But don't just take my word for it. When I introduced this at White Street, it became one of our most ordered dishes. I've seen people eat it as an appetizer, as a side, and even as a main course, which I, dedicated meat eater that I am, definitely did not expect. It has been cool to see how many different people will accept and then embrace an unusual spin on a pretty ordinary ingredient. When you serve it for parties at home, leave the two halves intact and put them in a large shallow bowl. They look great with the dressing poured over them. Or, if you can find small cauliflower heads, you can prepare them as is as I often do, without halving them. A big spoon is all you need to pull florets off for serving.
Green raisins are easily found in Indian, Pakistani, and Afghani stores. They come from the Indian subcontinent, and I recommend trying to get them. They have a better acid-sweet balance than typical dried raisins, which tend to have a one-note sweetness. That acid component is important to the overall balance of the dish. It is true, however, that it's not crucial, so you can use the ubiquitous golden raisins in their place if you truly can't find green ones.
Excerpted from Floyd Cardoz: Flavorwalla by Floyd Cardoz (Artisan Books). Copyright ©2016. Photographs by Lauren Volo.
Listen to Floyd's recent appearance on The Faith Middleton Food Schmooze® and get more recipes from Flavorwalla.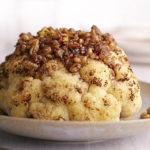 Cook Time

Passive Time

1

hour

1 hour 20 minutes

for cooling and draining the cauliflower
Cook Time

Passive Time

1

hour

1 hour 20 minutes

for cooling and draining the cauliflower
Cook Time

Passive Time

1

hour

1 hour 20 minutes

for cooling and draining the cauliflower

Cook Time

Passive Time

1

hour

1 hour 20 minutes

for cooling and draining the cauliflower
Bring a large pot of generously salted water to a boil. Have ready a large bowl of ice water.

Meanwhile, cut the cauliflower straight through the stem to divide it in half. Cut several slits along the full length of the cauliflower stem on the cut side of each half; be careful not to cut so deep that you remove any florets or slice through to the other side.

Place the cauliflower in the boiling water and cook until it is just tender and a little translucent along the edges but still crisp, 3 to 4 minutes. After 2 minutes, check the cauliflower for doneness, and continue to check every minute so that it does not overcook; test doneness not with a knife but instead by looking at it and, if necessary, poking it with a spoon.

Immediately transfer the cauliflower to the ice bath and let stand until completely cool, 15 to 20 minutes. Drain the cauliflower and set aside in a colander for at least 1 hour, until thoroughly dry.

Meanwhile, place the raisins in a small saucepan and enough wine to cover the raisins. Bring to a boil over medium heat. Remove the pan from the heat and let stand until the raisins are softened and cool enough to handle, 10 to 15 minutes.

With a slotted spoon, transfer the raisins to a cutting board. Coarsely chop them and return them to the wine. Set aside.

In a jar with a tight-fitting lid, combine the olive oil, balsamic vinegar, maple syrup, lemon zest and juice, shallot, candied and fresh ginger, pine nuts, chile flakes, the reserved raisins and wine, and salt to taste. Cover and shake vigorously until well blended. Taste and adjust the seasoning. Set aside.

Prepare a high-heat grill, or preheat the oven to 450°F and line a baking sheet with parchment paper.

Lightly season the cauliflower with salt and pepper and brush with olive oil.

If grilling, place the cauliflower halves cut side down on the grill and cook until well marked. Flip them and cook until well marked on the rounded side. Continue to cook, turning the cauliflower as necessary, until tender and brown all over, about 20 minutes total.

If roasting, place the cauliflower cut side down on the baking sheet and roast until lightly browned and tender, 15 to 20 minutes.

Place the cauliflower halves in a large shallow bowl and pour over the topping. Serve hot.