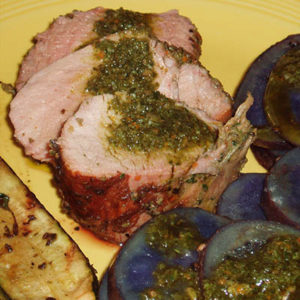 Mojo is the catchall Latin American name for several types of sauces varying in flavors and spiciness. Mojo sauce is commonly served over meats and potatoes, but it can also flavor anything from tomatoes to peppers to avocado. In Cuban cooking mojo applies to any sauce that is made with garlic, olive oil, and a citrus juice (traditionally sour orange). As in this recipe, it is commonly used to accompany pork.
From Quick-Fix Gluten Free by Robert M. Landolphi/Andrews McMeel Publishing
Read our review to learn more about Quick-Fix Gluten-Free, and to hear Robert describe many of the recipes in the book,  listen on-demand to the episode where he was our special guest.

This mojo pork tenderloin is an excellent alternative to common cookout fare.
| | | |
| --- | --- | --- |
| | | This mojo pork tenderloin is an excellent alternative to common cookout fare. |
Preheat a grill to medium heat.

Rub the pork tenderloin thoroughly with olive oil and sprinkle with salt, pepper, and oregano. Grill for 12 to 15 minutes, turning occasionally, until the pork reaches 145°F on an instant-read thermometer.

Let the pork rest on a cutting board for 5 minutes before slicing ½ inch thick. Place the slices on a serving platter and spoon the sauce over the pork just before serving.

In a medium bowl, whisk together the olive oil, orange juice, lime juice, cilantro, garlic, cumin, oregano, and jalapeño. Season with salt and black pepper to taste. Set aside for about 20 minutes to allow the flavors to meld together. Just before spooning over the pork, whisk the sauce a second time. Leftover sauce can be refrigerated in an airtight container for up to 1 week and used on meats, seafood, poultry, vegetables, and potatoes.